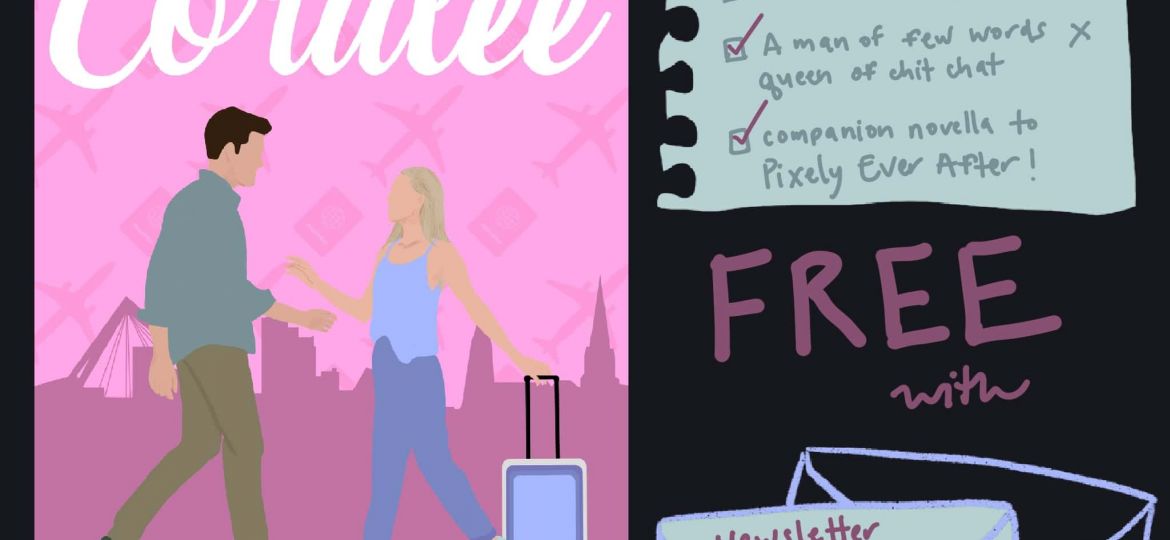 Writing romantic comedy isn't very different from writing fantasy. I still torture my characters😉, except in a contemporary setting, it's more of a social torture rather than a physical one.

Hurricane Coralee is a companion novella to Pixely Ever After about a man of few words stuck in the ultimate buddy adventure with the queen of chit chat. I am an introvert in real life, but as a writer, I enjoy torturing introverted characters with a variety of awkward social situations.

✨And it's completely FREE when you sign up for my newsletter💌 ✨

Believe me, this newsletter will be the most entertaining read in your inbox… in my totally biased opinion;)

Pixely Ever After launches 🚀 4/6/21 😉 so take the biggest, boldest marker you can find and mark up that calendar.

My next digital postcard, all about juicy real-life inspo behind Pixely Ever After, drops soon!

✨Are you on the list? ✨

In the meantime, here's an enticing tidbit about Hurricane Coralee… 💕
👇👇👇

BLURB:
Cybersecurity consultant Elliot Cole lives and dies by efficiency.
He's never late for a meeting and has never missed a flight.
Until she walked into his life.
Coralee Davis was trouble…
Trouble in athleisure and a daisy scrunchie.
Coralee, his cousin's beautiful and extremely chatty ex-fiancée.
They're on the same flight.
Stuck in the same storm.
Strangers turned travel buddies crashing in a never-ending string of airports and forced to share a bed in a fleabag motel.

All the while, Coralee names off all the fish in the sea and forces him to watch Beaches.
Elliot left Iceland refreshed. Now he finally understands why his cousin calls her 'Hurricane Coralee.'
She destroys everything in her path with her non-stop chit chat.
She's also the sunniest person a grump like him has ever met.
Will Elliot make it back to Indigo Bay without losing his mind —and his heart—to Hurricane Coralee?